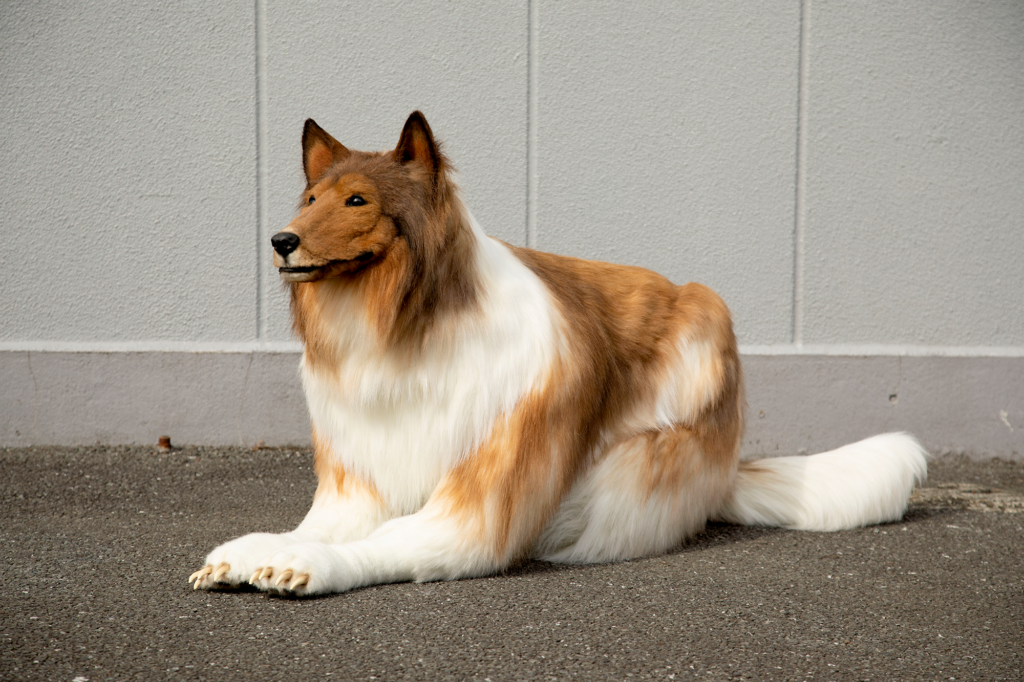 Custom-made for personal order
We custom-made a dog suit for an individual client. The suit, modeled after a collie, pursues reality in its quadrupedal locomotion.
■ Category : Costume Suits
■ Title    : < Dog Model Suit >
■ Production period :  40 days
■ Production Amount: 2,000,000 yen~
*Varies depending on the breed and size of the dog.
---
Customer's Voice
After the delivery, the customer posted videos of himself wearing the costume on his social network accounts and YouTube.
The videos went viral online, resulting in coverages not only by domestic news sites but also by media abroad. We interviewed the customer once again after his body suit made a large media impact.
*The feedback below was made in August 2023.
[1] How have you been utilizing the Dog Model Suit so far?
In the beginning, I only enjoyed wearing it at home.
When I posted the video of myself in the suit on my social network account, the response was huge. That prompted me to start posting videos on YouTube.
Presently, I wear it whenever I make a new video. For me, the fun part is to wear the Dog Model Suit, so I make videos primarily to make a reason to wear it.
[2] How do you feel now, finding out that the use of the Dog Model Suit was such a success?
I'm very happy because my dream of being an animal came true.
I'm also astonished at the huge media attention. This was not what I expected at all in the beginning.
[3] Your order was not one of the cheapest purchases, but was it worth the cost?
I am happy with the price, because I am satisfied with the result.
[4] Any renewed comments for Zeppet?
The suit wasn't possible without Zeppet's modeling expertise. Thank you very much for realizing such a wonderful model suit.
---
*The feedback below was made in 2022.
[1] Background of the order
Since childhood, I have had this unspecific fancy of becoming an animal. I wonder whether it was a desire for transformation. To materialize the fancy, I decided to order a body suit in the shape of a real dog (collie).
Zeppet's proposal and quotation upon order
I have decided to place my order because Zeppet proposed an attractive and detailed plan and responded to my request with sincerity from the quotation stage. I also found the studio trustworthy, as it has produced a wide range of realistic models in the past.
[2] Comments on Production Phase
My primary impression is that the studio tried to materialize my preferences as best as they can, however difficult it could be.
Throughout the production, the studio responded with sincerity whenever I conveyed my desires at meetings and fitting sessions.
[3] Comments on the completed product and delivery
I suppose creating a four-legged model for a two-legged human is extremely tricky, as our skeletal structure is quite different from canines. I was therefore naturally worried about how it would turn out. After various trials and errors of the studio, however, the final result was brilliant and very satisfactory.
[4] Feedbacks and comments on Zeppet
Your professional skills and efforts made my dream come trues. Thank you so much for your hard work!
---
We at Zeppet welcome orders from individual clients, too.
>> Inquiries
*If you are an individual consumer ordering a product related to existing characters (e.g. body suit, costume, etc.), for the avoidance of copyright infringement, please obtain a license from the title holder of the character and present its copy to us prior to the order placement.